Product Description
Vanillylamine hydrochloride

CAS NO 7149-10-2
Vanillylamine hydrochloride CAS NO. 7149-10-2 is a very important chemical intermediate for capsaicine.
Product information is as follows:
Chemical Name: Vanillylamine hydrochloride
CAS No.: 7149-10-2
Synonyms:

4-Hydroxy-3-methoxybenzylamine hydrochloride
Molecular Formula: C
8
H
11
NO
2
HCl
Molecular Weight: 189.64
Formula :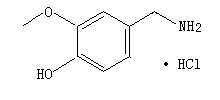 Specification:
Characteristics :White to off-white crystals
Assay: ≥98.0%(by HPLC)
Melting point: 219-221 °C
Vanillylamine hydrochloride takes vanillylamine as the material, and adopts one-boiler innovative craft, high acceptation rate, good quality and others.